Who Wants To Play Better Tennis?
Learn how to change your game forever, and hit the ball like a superstar. If you're serious about wanting to play the best tennis of your life and improve in every aspect of the game,
just check this out. [Turn On Your Sound]
It's a secret waiting to happen, and it's available to anyone wanting to take the next step.
Every tennis player has gone through it.
Ups, downs and everything in between.
Would you like to know the secret that Federer, Djokovic, Nadal, Williams, Sharapova, Graf, Navratilova, and other past or rising champions have discovered to keep their game on track?
---
It's Not What You Think.
Every pro trains hard to make every shot count, but what they don't tell you is they fail too. Learning the proper fundamentals is probably the hardest thing any player can do. Learning the fundamentals and embracing those as a "second nature" instinctual drive for consistency is the overriding factor that enables any individual to achieve greatness.
It doesn't matter what sport you embrace, tennis, golf, basketball, football, baseball, soccer, or any sport for that matter, if you don't have the "proper" fundamentals, you won't have control and you simply won't get consistent wins.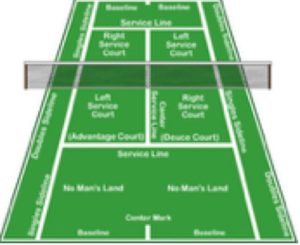 There is a bottom line. When you can set the proper foundation in any sport (yes I am talking about Tennis) then you are at the precipice of greatness. Strong trees have developed strong roots, and even a Hurricane Level 5 can not upset them.  Likewise, even the average recreational player can achieve a level of consistency never thought possible when you develop the proper foundation. It's no secret, but it can sure seem like it if you don't set the right foot forward.
Who Wants The Missing Link?
I started teaching 40 years ago after I discovered a fundamental clue. Most players can have an up after a down, but what they don't achieve is the winning ability to rise above the crowd and produce consistent wins. Sure, you can have fun on the court even when you hit the ball over the fence, but is that what you want when you are up against an opponent?
Imagine yourself actually being able to hit a serve that has such power, it aces your opponent.
Imagine being able to hit your serve consistently over the net and know that your opponent is actually in fear about return of serve.
Imagine yourself being able to hit a backhand straight down the line with such consistency that your opponent can't even reach it, again and again.
Imagine yourself hitting a forehand with such topspin or slice that your opponent can't believe it is you.
Imagine yourself hitting a volley or overhead with such accuracy and so fast your opponent's head is spinning.
Imagine yourself holding the "fear factor" and you have such confidence your opponent is almost ready to throw in the towel.
Imagine yourself as the winner beating players you never thought possible!
Imagine yourself as a member of the CTW Academy.
Imagine yourself as the WINNER!
No matter what level you are at,
that is what the CTW Academy is all about: WINNERS!

I will teach you how to ACHIEVE great tennis & DOMINATE through consistency.
What do you need help with? Tom Avery is the best internet instructor, PERIOD! Sure there are a lot of good instructors, some really bad instructors, and others that do excel. When you join Tom's camp, however, you are in with the BEST. Tom's ability to give it to you in plain English, and show you with focus and clarity is the key to understanding that will enable you to achieve a consistency you never thought possible.
There just isn't anyone better at helping any player achieve a higher level of tennis with consistency than Tom Avery. He even invented a tennis racquet that excelled with consistency.
What every player is looking for is a way to achieve greater consistency in every shot, Serve, Forehand, Backhand and Strategy. Tom has laid it all out in a series of courses that are available to even mere mortals and occasional recreational players.
But if you are looking to find the answers, then your quest has arrived. Just open the door and you will find a treasure chest of wisdom, advice and guidance that few others have achieved.
Every Flaw Exposed, Explained & Cured!
Tom's eagle eye is always at the forefront of Tennis instruction to explain a way to make your shot better, easier and consistent. Tennis is a game of understanding how to make each shot stay within the lines longer than your opponent. The more you can do that, the more success you will have. It's simple...Consistent Tennis Wins. PERIOD!
---
The Holy Grail Of Tennis?
Shot consistency is the holy grail of Tennis. Imagine that you have arrived at a gate where any Tennis answer is possible. Every question that you have ever had about a Tennis flaw, a shot that you just can't conquer or a strategy that consistently fails you is now up on the board, in broad daylight where you can see, envision and realize the answer.
It doesn't take a rocket scientist to figure out why your ball is spinning out of control, it simply takes a step forward to the next level of understanding to create a cure for a lifetime of Tennis envy by your friends and competitors. The result? Consistent Tennis Wins!
Want To Join The Winner's Circle?
By becoming a member of the CTW Academy you gain access to the wealth of Tom's 40 years teaching methods.  Tom has seen the pitfalls experienced and has developed a way of teaching that is easy to understand and makes lasting improvement. Over 8 courses you'll get 30 hours of Tom's expert, ground-breaking teaching methods encompassed in 214 videos. Don't worry, you are guided in each and every step with a clarity and focus few other people possess. If this were another game, you might be thinking Vince Lombardi.
 Included are the ground-breaking:  Consistent Tennis Wins Game Plan, Rock Solid Backhand, Rock Solid Forehand, Serve Domination, Stroke Production For Power And Control, Topspin And Slice Factor, Tenacious Tennis Fitness and Tennis Nutrition Secrets.  These courses are only available to CTW Academy members.
And when you join today, there's more for sure, but only available to members on the inside of The Winner's Circle. Don't miss out...claim your spot now.
THE CLOCK IS TICKING...
Well, here's the scoop. You can purchase just 1 course or a few.
Sometimes I spin the wheel and offer the whole VIP All Access Academy lifetime package at a discount. It's up to you.
Just log in to any of these courses, and you will find the answers you have been searching for...
Holy grail, perhaps. An upgrade to your game, for sure!
Join the Academy & Get the Win.
Not Quite Ready, Want To Learn More? Just Read On...
The CTW Academy consists of 8 courses (more coming) that encompass the full breadth of the Tennis spectrum. Tom has broken this down into the precise fundamentals and components necessary to create CONSISTENT TENNIS WINS, PERIOD!
You can go with each one at your own pace, get guided instruction that you will find nowhere else, and also find additional resources and help when you need it. Take it to the court with you!
When you learn from the best, you can become your best!
Module 1: Consistent Tennis Wins - Learn The Tom Avery Method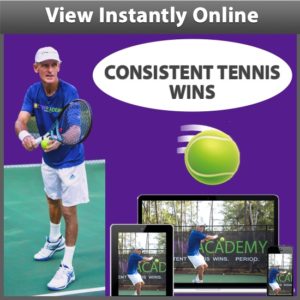 If you are looking to reinvent your game or yourself, this is where you start. If you are just getting started, this is where you start. It's all about your foundation. A strong house needs a strong blueprint and a very solid foundation. Even if you are experienced at a higher level, I guarantee you will find the reminders you need or simply get a different approach.
This course provides the game plan you need for every facet of the game. The ultimate key to taking your game to the next level is consistency!
The result? Consistent Tennis Wins and that is proven on the court all the time. Don't just learn Tennis, learn how to be consistent and Win! I give you the plan for every facet of the game and drills to bring it home as well.
Module 2: Rock Solid Forehand Course
It's a fact - You will hit more forehands and backhands than all other strokes. They need to be "rock solid" consistent and powerful to take your game to a higher level. Don't just settle for a good shot now and then.
Make every shot count and make it the stroke your opponent does not want to see. Rock Solid Forehand will peel back the curtain and show you every trick in the book, plus it will enable you to fix any flaw.
The result? Consistent Tennis Wins! This course will enable you to improve in ways you never thought possible. Join the CTW Academy and join the Winner's Circle!
Module 3: Rock Solid Backhand Course
As I said, you will hit more Forehand and Backhand shots than any other in the game. The Backhand can be one of the toughest shots to master. Many players struggle with this shot and the answer to a better backhand may not be what you think. One of the keys is a minor technique adjustment and learning to relax more with this shot. This course will help you develop an effortless backhand. When you have mastered this, you can breathe confidence into every stroke.
Both the one-handed and two-handed are covered with WTA professional player Stephanie Theiler doing the demos for the two-hander and Tom Avery doing demos with the one-hander. The slice backhand and the backhand volley are also covered in this Rock Solid Backhand Course that will surely crank your backhand up a notch. Yes, once you cover this ground, you are going to be on sure footing. The result? Consistent Tennis Wins!
Module 4: Serve Domination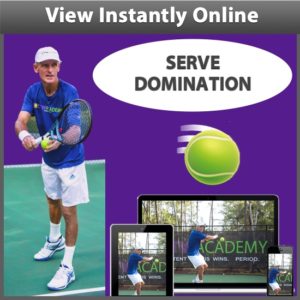 Once you have covered the ground and embraced the principles for the most used strokes, you need to understand the serve. The serve is the single most important shot in tennis and if you can't serve well then you're just handing points to your opponents. In this course I'm going to give you the knowledge you need to practice and transform your serve into a reliable weapon that you can count on.
This is a total comprehensive course detailing every aspect of the serve from how to hold and toss to hitting a powerful kick serve.
Don't worry if you have been frustrated with this element of the game. I have the fixes, the guidance and the knowledge to help you at every step of the way. The result? Consistent Tennis Wins!
Module 5: Stroke Production For Power & Control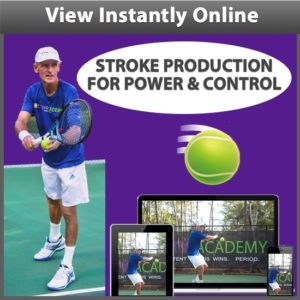 In this course I'm going to teach, train and drill into you, consistent tennis—the kind of tennis that wins games. This course is divided into 10 Modules, covering every stroke in the game.
I'm taking my 40 years of fixing flubs and helping you to avoid the pitfalls of bad stroke production.
This course will fine-tune ALL YOUR STROKES from the serve, ground strokes and volleys to the overhead and lob. You will be able to play from any area on the court and become AN ALL COURT PLAYER.
You will wonder why you didn't think fo these things before, but the results will speak for themselves. What results? Consistent Tennis Wins, of course!
Module 6: Topspin & Slice Factor
Over the years I've found that many of my students did not really have a clear understanding of topspin and slice, i.e., what it is, how to get it, advantages and disadvantages and when to use them. This is critical factor to the best game play, so I knew I had to deliver this fundamental in the most dynamic way possible.
There are 35 videos in this course covering every situation and detail. Through the Topspin And Slice Factor course you'll be building a solid foundation for these very critical strokes.
I will guide you easily through every situation. Pick up and embrace these fundamentals, and you will excel over every opponent you meet. The result? Consistent Tennis Wins!
Module 7: Tenacious Tennis Fitness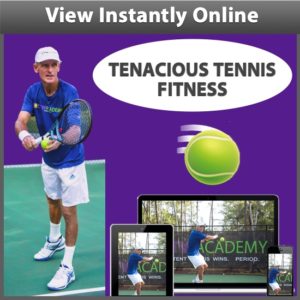 Tom Avery says, "Besides working on your stroke technique, taking your fitness to a higher level is the next best thing you can do for your tennis game." If you never run out of gas you will be a tough opponent.
This course is divided into 4 Video Modules, Strength and Power, Footwork Speed and Agility, Endurance and Flexibility. Follow the workouts and you'll feel stronger, have improved shot execution, balance and control over the ball with less effort and minimize your chances of injury.
There are 4 BONUS videos, How To Get Slim Without Dieting, How To Prevent Injury And Recover Faster, How To Warm Up Correctly, How To Prevent Tennis Elbow and Other Injuries, and a PDF file of Tom's Top Ten Smoothie Recipes.
Module 8: Tennis Nutrition Secrets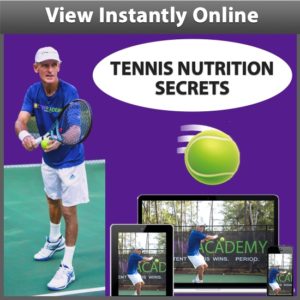 Probably one of the simplest fixes and most profound change you can make in your Tennis game. And for many people, it is simply a mystery and could be the best kept secret for a professional athlete. On the other hand, even if you are a recreational player and just want to keep playing into your 90's, there is a secret here that should not be overlooked.
Tom is going to teach you how to gain more energy, how to recover faster from tough matches, and how to easily keep your training consistent for long-term results. In this course you'll discover why changing to a plant-based way of eating is the most beneficial and how to implement simple recipes and guidelines that will have you feeling like a new person. If you're serious about taking your game to new heights this course will not only do just that, it will take your health to a feeling you never dreamed possible. This course comes with a 98 Page E-Book which gives you the mindset for breakfast, lunch and dinner and the recipes to go with it.
Also, in this course, 12 videos by Tom helping you avoid the common pitfalls. Tom takes his 10 years of knowledge on a whole food plant-based lifestyle and as a Sports Nutritionist to help you avoid the common pitfalls and the many common ailments experienced by so many today.
Tennis Nutrition Secrets will change your health and performance for the better and beyond what you ever deemed possible. The result? Better health means a better game and Consistent Tennis Wins!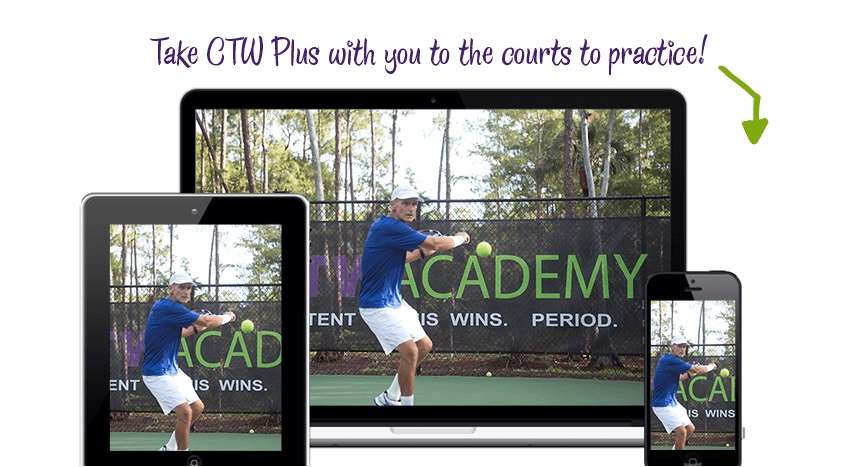 Are You Ready For A Game Changer?
So you've stopped looked and listened? What do you think? Can I help you? I think so. I've been a coach for so long, I have seen it all, and now I just want help you. It's not as difficult as you think, and I will make it even easier. I will help you gain an understanding about any Tennis problem, flaw or question that you have. It's what I do, and I am good at it!
If you still have a question, just reach out and let me know, but there's no better time for action. Remember, the journey of 1,000 miles starts with the first step. Let me help you take it, and I guarantee it will be easier than you ever imagined.
Play your best,
Tom
What's The Value Here?
Tennis is huge. The sport is one of the most popular and ranked 4th in the world with about 18 million people in the U.S. alone participating. It is estimated about 1.2 billion people play or watch throughout the world.
I have 40 years of coaching experience and I have seen it all. That makes me believe I can help a lot of people. It takes a ton of time and resources to put together these courses, and I know that you can look around and find other coaching courses. When I look around, most of those are priced in the $150-200 range. That is not bad when you consider the cost of personal 1-on-1 or attending a physical academy. You would pay in the thousands to get the full scope of training that I have assembled. I want to make a difference though in my quest to make this as affordable as possible to as many as possible.
I decided to price my courses in the $47-97 range, even though I have put many, many hours in to the construction and refinement of the information you will receive. And I even occasionally offer a discounted VIP All Access Pass to the complete academy where you will save a bundle.  Sure, I can't be everything to everyone, but I think my value speaks for itself.
And I want you to be 100% satisfied too. That is why I stand behind my money-back guarantee. Go ahead and try it out for 30 days. Take it to the court with you. Shoot me a question. Whatever it takes, I am there to help you excel.
If for any reason, after that time you feel like it just isn't for you, I will give you your money back. No questions, PERIOD! What have you got to lose, but repeating the same mistakes over again.
Play your best,
Tom
And Remember You Have 8 Courses To Choose From...
CTW Academy Covers Everything!
Consistent Tennis Wins Course - A Great Place To Start: Designed By Tom For Instant Improvement
Rock Solid Forehand Course
Rock Solid Backhand Course
Serve Domination Course
Stroke Production Power And Control Course
Topspin & Slice Factor Course
Tenacious Tennis Fitness
Tennis Nutrition Secrets
"Tom's video lessons are the greatest tennis lessons available on the internet. They've improved my game by 100%! The last few years I was just another regular tennis player, losing most matches! But now in the last year after watching Tom's lessons, and then going out and practicing Toms's new tactics and techniques I have doubled up my game! Now I am beating guys I never had a chance of beating."

Ben Johnson

British Columbia, Canada
"Whether it's a verbal cue that really hits home, or a comment that provokes the type of thought that leads to breakthrough discovery, Tom has done a fine job with his instructional library. I will continue to refer to his expertise as long as I am in the game."

Shane Racine

Rising Sun, Maryland