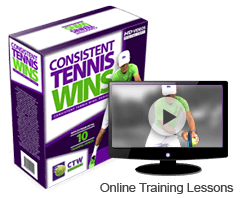 consistent tennis wins
A tested, proven plan to transform you into a truly consistent player, making your frustrating on/off game a thing of the past. Includes 10 "freeze frame" videos with full voice commentary from 35-year Elite Professional Coach Tom Avery. Over 1 hour of instruction covers the serve, return of serve, forehand, volley, backhand and more. On SALE now for 85% off – limited time only.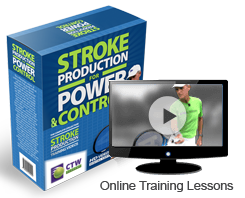 STROKE PRODUCTION FOR POWER AND CONTROL
If you've ever dreamed of becoming a powerful and consistent player, then this program will show you the repeatable roadmap to achieving it in record time. This one-of-a-kind video course has over 4 hours of step-by-step, slo-motion video lessons. It covers advanced tactics for all the major shots, court strategy and "high-percentage tricks" with Tom Avery's voice explaining it all in vivid detail.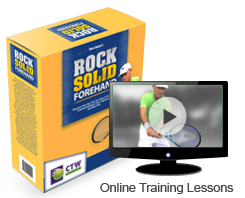 ROCK SOLID FOREHAND
If you want a forehand that will exceed your wildest expectations, that will become a reliable consistent weapon, that will help you win more matches and have more fun on the court, then Rock Solid Forehand is for you. This course has over 3 hours of step-by-step, slow-motion video lessons teaching you exactly how to have more consistency, finesse, and power with your forehand. Tom carefully explains every detail in HD video and gives you practice drills and techniques in this course.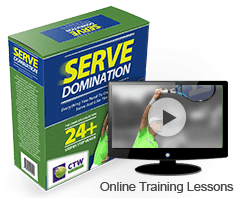 CTW SERVE DOMINATION
This course will give you a powerful, Federer-like serve that puts relentless pressure on your opponents. Sidestep all the frustration and confusion instantly by unlocking a winning serve today! This course offers over 2 hours of video lessons that will transform your serve into a deadly weapon that will have your opponents sweating before the match even starts!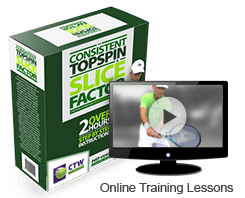 TOPSPIN AND SLICE FACTOR
In order to take your game up a notch and become a feared, respected opponent, it's essential to master the topspin and slice shots. This course is complete with over 2 hours of lessons teaching you everything you need to be downright deadly with topspin and slice. Videos include slow-motion, freeze-frame analysis of all the grips to use, correct racquet angles, body positioning…everything!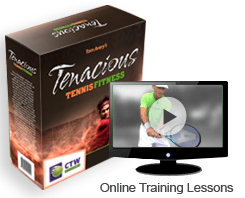 TENACIOUS TENNIS FITNESS
If you would like to develop strength, power, endurance, and flexibility then this course is for you. This one-of-a-kind video course has over 4 hours of step-by-step, slo-motion video lessons demonstrating 56 exercises designed specifically for the tennis player that wants to become more fit on the court. Fitness is what separates the average players from the great ones. This course is exactly what you need to become strong, fit tennis player.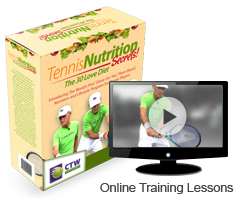 TENNIS NUTRITION SECRETS – THE 30 LOVE DIET
If you want to take your game to the next level you need to focus on one of the top five aspects of the game, and that would be nutrition. If you're not eating foods that promote optimal energy and recovery it will be very difficult to sustain a regular consistent pattern of playing tennis and maintaining fitness. Included in the course are 16 step-by-step videos along with a 96 page recipe book. Tom will walk you through the process of switching to a more proper fueled diet.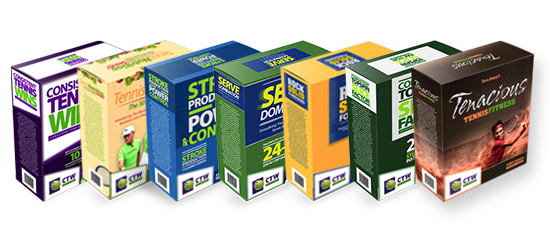 CTW MASTER COLLECTION
The CTW Master Collection is complete with everything you need to take your game from beginner/intermediate to advanced in the fastest time possible. You get all 7 of our courses with over 18 hours of video lessons that will practically FORCE you to win more matches. Learn every aspect of the game and become the player you've always dreamed of with one low price package.