Tennis Con 2 Was A Blast...Sorry You Missed It!
But wait...there's more! Tennis Con2 is now closed, but I've got something to fill the gap.
I'm going to keep all of my courses on a SPECIAL for the next week...45% OFF.
Doesn't matter what level you are at or what you want to improve...
It's all here waiting for your next serve!
Get the backhand you always dreamed of...
My mini course reveals it all...I want to show you a secret that can change your game forever.
This Free Mini Course Could Change Your Game Completely.
You can show up on the court and take it any pace you like, and if you follow Tom's advice, you will improve!
We value your privacy and would never spam you
"Tom's video lessons are the greatest tennis lessons available on the internet. They've improved my game by 100%! The last few years I was just another regular tennis player, losing most matches! But now in the last year after watching Tom's lessons, and then going out and practicing Toms's new tactics and techniques, I have doubled up my game! Now I am beating guys I never had a change of beating."

Ben Johnson

British Columbia, Canada
---
For Tennis Con 2 & Valued Subscribers, Here's 2 Special Promos:
Oldie, But Goodie-Still Pure Gold!
PROMO 1:  This is the complete DVD course, all 8 volumes that I was selling for $299 before the advent of HD Video and 4K. In fact it is still selling on Amazon at that price. So, I need to make some room and you guys get the benefits. While the video and graphics are not quite up to today's higher standards, the content is still ROCK SOLD! A great resource to keep around, so grab one while supplies last. It's a steal and you won't regret it. I should probably be discounting this to $79.95, but I wanted to extend a really special offer to all of you. I decided to give it to you guys for less than the price of one volume. Yes, you heard it right. Now $24.95 for all 8 volumes. Get 'em while you can.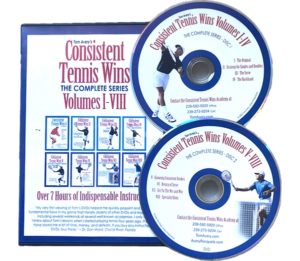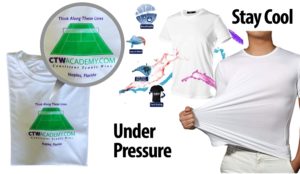 I Just Couldn't Resist...Tee's Are Beyond Great!
PROMO 2: "Think Along These Lines"
Let's others know you're passionate about the game!
It is super comfortable and perfect to wear on the court, in the gym or leisurely. This ultra wicking T is just simply made for Tennis.
I have drawers full of these, so I went ahead and created one for all my students. I thought why not let everyone else know how great these things are. NO, you're not obligated, but I am offering these out to all my friends. I think you should give one a try. It might not directly improve your game, but it will make you feel like you have...look like a million, play like a pro!
And I've Saved The Best For Last...Every Course I have Is On Sale - 45% OFF Now.